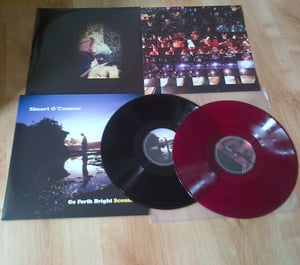 £

20.00
Limited edition - only 444 made.
Tracklisting
Side A
1) Clean Code
2) Normal Scheme Of Things
3) One Schizophrenic
4) MENO
5) Organic (Like the Plague)
6) Time Lost Tradition/Bright Scenic Reprise
Side B 1) Eternal Grateful/The Penny Drop
2) Conversations
3) Your Guitar (Tsukinohi)
Side C
1) w/Haco Live at Varit, Kobe, Japan (Part 1)
Side D
1) w/Haco Live at Varit, Kobe, Japan (Part 2)
2) Conversations (Instrumental)
The first self produced album since Stuart's debut back in 2006.
'Scenic' has been in the process for 4 years and has involved a long
search into a place of personal identity and the understanding of ones
roots. The songs and themes are as such that only really one person
left in their own space for as long as it takes to conclude the
process; was the only way this album was ever going to work. Outside
involvement only came in the form of interviews collected by Stuart
which concur with the albums theme. And additional musicians who were
invited to participate their valued skills at the appropriate time in
the process. Special mention must go to Nick Hall who came into the
process at the time of mixing and took on hours of intricate work to
ensure maximum clarity to the recordings. 'Scenic' is a pure labour
of love and something that could prove to be a challenging but
hopefully rewarding listen.
'Scenic' has been released on Double Gatefold 12" Vinyl LP. The first
disc is the album as it was intended. The second disc is a live
collaboration (unique to this format) recorded in Kobe, Japan between
Stuart and one of his favourite musicians Haco.
"To come to Japan and have the chance of performing with Haco was like
a surreal dream coming true. For me personally it really affirmed my
role as a musician and to have the complete concert put to vinyl
represented how special the experience was."
Produced by Stuart O'Connor
Mastered by John Mercer
Running Time: 44 Mins + Bonus Material
Cast of Musicians:
Keys / Synth - Dave Smale Trumpet / Flugelhorn - Vicky Flint Percussion - Leon Camfield Violin / Viola - Rachel Steadman Flute / Vocals - Amy Lazzerini Bass /Vocals - Nick Hall Lazzerini Tenor Sax - Roger Pride Vocals - Julia Bell Omnichord - Eric Gebow Autoharp - Joe Davin Signals - Craig Harris Double Bass - Riad Abji Guitar / Vocals / Harmonica / Glockenspiel / Synth / Rhythm Synth / Percussion / Log Drum / Bass Metallophone / Button Bells / Mandolin / Acoustic Guitar / Bass Guitar / Electronic Beats / Monotron - Stuart O'Connor