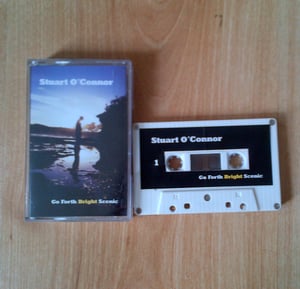 £

10.00
Limited edition - only 44 made.
Tracklisting
1) Ace Cloned
2) Slow Start
3) Ons
4) Compromise
5) She Is Your Microscope
6) Bold Bright
7) That Cough You Gave Me
8) Contact Approved
9) Probably
10) Modern Life
11) Success Aint What They Teach/Bright Scenic Reprise
12) Navigate (Feat. Craig Harris)
13) All Suspense

'Bright' was the result of many various recording sessions on and off
the road between 2008 and 2012. Stuart brought the sessions in their
various states to fellow troubadour Craig Harris who took on a
co-production role. They also collaborated together for the first time
on a new recording called 'Navigate'.
The main focus of the album was to complete something that leaned a
little more towards the singer/songwriter sounding record.
The album has been released on 'Tape Cassette' and also includes
material on side B that cannot be found anywhere else. This includes a
performance by Stuart of the song 'Recordeddirecttothiscassette' which
has been recorded through a boom box cassette recorder to each of the
individual 44 tapes in order to make each cassette unique. The song
has been recorded 44 times in 44 different locations with various
musicians in attendance for each performance.
Produced by Craig Harris and Stuart O'Connor
Mastered by Craig Harris
Running Time: 44 Mins + Bonus Material
Cast of Musicians:
Drums / Keys / Vocals / Guitar / Bamboo Flute / Signals / Glitches / Santoor - Craig Harris Piano / Fuzz Piano Treatment - James Harrison Keys / Synth - Dave Smale Keys / Percussion / Ukulele / Bass - Ollie George Vocals - Julia Bell Synth - Chris Hollis Violin / Viola - Rachel Steadman Flute - Amy Lazzerini Mandolin - Joel McDermot Trumpet - Vicky Flint Double Bass - Riad Abji Autoharp - Joe Davin Vocals - Marcus Harley Guitar / Vocals / Banjo / Mandolin / Percussion / Glockenspiel - Stuart O'Connor