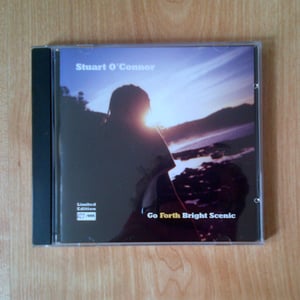 £

7.00
Limited edition - only 444 made.
Tracklisting
1) Lac Encode
2) Squeaky Doors
3) Default: Escape
4) World Is Plenty
5) Varit
6) You Know What You Are
7) Resonate
8) When You Go Home
9) Note That Says/Bright Scenic Reprise 10) 1-2-Seppuku
Bonus Tracks
11) Misfit Theatre (Live)
12) Kpamlogo (Demo)
13) Kindred Falls (Demo)
14) You Know What Are (NZ 2011 Demo)

This album is a result of a continued willingness to collaborate in a
studio and live environment from a solid ensemble of 5 musicians. Dave
Smale, Riad Abji, Vicky Flint, Leon Camfield and Chris Hollis. We
Played our first show in March 2008 and over the last 4 years have
honed our sound as a unit. I am so grateful to them for the wonderful
live experiences we've shared.
I was also lucky to be able to call upon the musical services of great
Japanese musicians Yasushi Kita and Toruko Nolen who brought a
traditional feel of the far east to 'Forth' closing track 1-2-Seppuku.
The 'Forth' Album is sold as a CD release. Included in this are 4
additional tracks which are available uniquely to this format and will
not be available as a part of the download release. These include
demo's from the sessions and a live track taken from the bands first
ever live show back in 2008.
Produced by Chris Hollis and Stuart O'Connor
Mastered by Chris Hollis
Running Time: 44 Mins + Bonus Material
Cast of Musicians:
Shamisen - Yasushi Kita
Accordion - Toruko Nolen
Drums / Fretless Bass- Leon Camfield
Synth / Drums / Vocals - Chris Hollis
Double Bass / Cello - Riad Abji
Trumpet - Vicky Flint
Violin / Viola- Rachel Steadman
Omnichord - Eric Gebow
Backing Vocals - Julia Bell
Tenor Sax - Roger Pride
Signals - Craig Harris
Guitar / Voice / Drums / Mandolin / Harmonica / Banjo - Stuart O'Connor