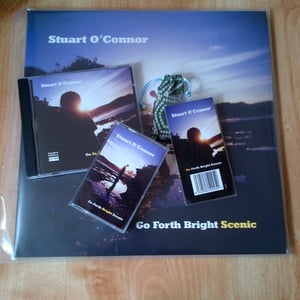 £

44.00
'Go Forth Bright Scenic' is 4 albums released as a part of the same project.
4 Years in the making the album offers the listener 4 different
selections of music each running at 44 mins each.
Two of the albums ('Go' and 'Forth') were Produced by Chris Hollis,
and one ('Bright') was Produced by Craig Harris. Whilst the final one
('Scenic') was self produced.
The focus of the themes of the 4 albums is varied and the wonderful
cast of musicians involved differ greatly in age nationality and
musical background.
This complete collection features each of the 4 albums (vinyl, CD, Cassette and USB stick) at one great price. The vinyl and cassette albums also feature a digital copy of the tracks to upload to your iPod or computer.