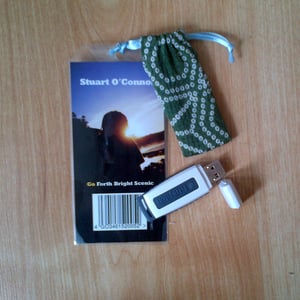 £

10.00
Limited Edition - only 44 made
Tracklisting
1) Laced Once
2) Bright Scenic
3) A Watchful Eye
4) Stored in the Bottom Drawer
5) Alaskan Sky
6) Still MIA
7) Suburban Sway (Feat. Harlequin Knights)
8) This College Year (Feat. Zero Call)
9) As Stubborn as a Sandfly
10) Could This Be Sadness
11) Dumb Mathmatics (Feat. Shamanic Technology)
12) Klingending
12 Tracks which focus very much upon the electronic side of music. Glitch beats, analogue synths and collaboration mash ups with guest rappers ensure 'Go' to be an extremely refreshing and yet focussed listen. A definite departure.
The 'Go' album is sold on a 4GB USB pen drive. The pen drive is presented in a unique storage pouch. This has been hand made in Japan out of the same material used to make Kimono's.
Also included as a part of this unique release is an additional reworking of the tune 'You Know The Score' A song originally released in 2008 on Stuart's 'Distance from here' Album. This song has been completely re-recorded for this release.
Also included is 4 sets of 10 photos taken by wonderfully gifted photographers Stuart met over the last 6 years of touring.
And finally there is also an additional 4 albums of secret material which can only be found on these 44 copies.
Produced by Chris Hollis and Stuart O'Connor
Mastered by Dennis White
Running Time: 44 Mins + Bonus Material
Cast of Musicians:

Keys / Synth - Dave Smale

Programmed Drums / Synth / Vocals- Chris Hollis

Live Drums - Leon Camfield

Trumpet/Flugelhorn - Vicky Flint

Programmed Drums / Synth / Harp - Ollie George

Electric Guitar - Ollie Friend

Glitch Laughter - Rob Burton

Bass / Vocals - Owen Stephen

Synth / Double Bass, Programmed Drums - Riad Abji

Vocals - Marcus Harley AKA. Harlequin Knights

Analog Synth / Drums - Andrea Possiedi & Francesco Federici AKA Zero Call

Synth / Programmed Drums / Treatments - Chris Hare AKA Shamanic Technology

Signals - Craig Harris

Guitar / Voice / Treatments / Synth / Programmed Drums / Percussion -
Stuart O'Connor